There are three major comic book superhero movies coming out this year. One is "Ghost Rider", from Mark Steven Johnson, the director of "Daredevil". This is a sure-fire canidate for the worst movie of the year already. The trailers look hideous and judging from Johnson's last movie ("Daredevil") and his last writing credit ("Elektra") I have no doubt it will suck.
The next is "Fantastic Four: Rise of the Silver Surfer". While the new trailer has "wowed" many people, I still can't shake the the first "Fantastic Four" movie from my mind. It was a horrid, anti-climatic pile of crap that gave the actors such bad lines none of them could utter a word without sounding like amatures. So my hopes for the second "Fantastic Four" are very low.
However, the most promising in the dwindling quality of these Marvel comic movies is "Spider-Man 3". "Spider-Man" made superhero films popular again with its stylistic, feel good approach to capture a wide audience. The second film evolved this status further, making it one of the best character oriented films of its kind. With the rare occasion of sequels being better than their prequels, one might be cautious with their hopes for "Spider-Man 3". But director Sam Raimi did it before and he's shown us a lot of the film with it still being so far away from release.
That said, "Spider-Man 3" is getting hype for finally having the villian Venom in it. Though only briefly seen in a TV preview, we have not actually seen a good look of the monster. Not too long ago a computer animated picture of Venom was leaked online: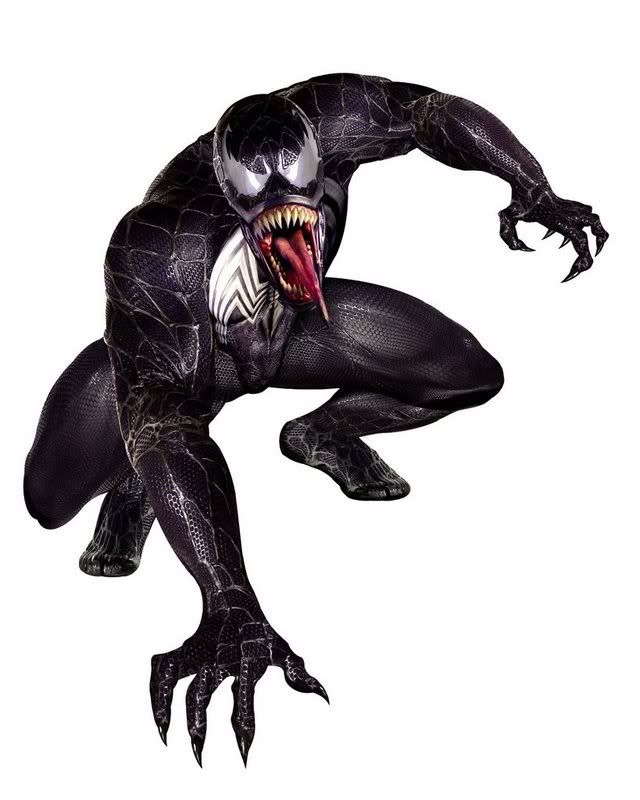 It's been claimed to be authentic, but now we have something new and...less impressive. I was able to snatch these photos before Tri-Star/Sony Pictures told toy retailers to take them down; but anyway here's a figure of Venom and what we might expect him to look like:
Now, I'm a bit worried. Obviously it will look a bit different in the film (and hopfully more buff), but Venom simply looks too...ordinary, a part from the mouth.
I hope this toy is simply unfinished or hasn't been fully painted. Venom needs to be more buff looking than that...
While I'm complaining I want to add something unrelated to this, but related to the film in general. Sandman killed Uncle Ben?!?! Does that not just ruin the point of the whole Spider-Man mythos and the irony of why Peter let the criminal get away in the first movie? I hope it's not true, infact I doubt it's true, but if it is it takes a lot away from Spider-Man's genesis.
While I'm being typical I'm making a prediction right now:
At the last 30 minutes of the movie Spider-Man is going to get help from Sandman and Green Goblin 2 (Harry) to beat Venom in a gigantic four way battle. I'll lay $30.50 on it right now. Four way battle at the end of "Spider-Man 3". Someone better challenge me on that.
Anyway, there's Venom. And here's hoping he'll look better than that.